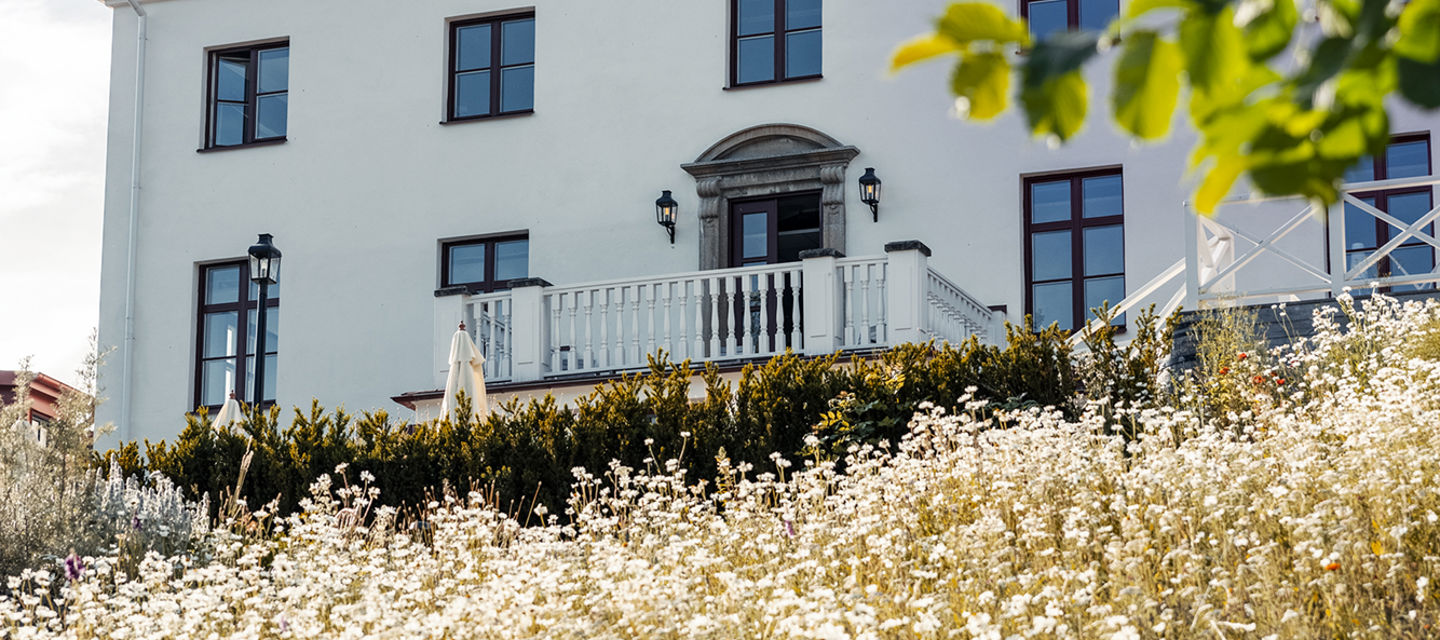 Our story
Smådalarö Gård, a historic place
Whilst firmly established in the modern age with exclusive comforts and a personal touch, Smådalarö Gård Hotel & Spa is also reminiscent of a bygone place. From Dalarö's status as an exclusive swimming spot and destination for iconic artists to its history of farming, fishing, brewing, distilling and the globetrotting Captain Blom's construction of Smådalarö Gård in 1810.
Carl Peter Blom: the merchant navy captain
Carl Peter Blom was born in 1762 on the island of Mefjärd, east of Ornö. He came from relatively humble beginnings in the southern archipelago; his father, Anders Blom, was a coxswain in the merchant navy and his mother, Anna Maria, a farmer's daughter from Fjellong. Seafaring was in his blood as even his uncle, Carl Gustav Berg, was a captain and taught Blom to navigate, bringing him on voyages. Blom became a coxswain in 1782 at the early age of 20 onboard the ship "Minerva", where his uncle Berg was the captain. The voyage took a year, during which they hauled goods from Marseille to other places around the Mediterranean.
In 1783, Carl Peter Blom was given command of his first brig, "Amphitrite". During the 13-month-long voyage, they travelled to places such as Naples and Tunis. In 1790 he became the commander of the full-rigged ship, "Italia Fregatt". He was then given orders by adjutant general Anckarsvärd to hand over 54 Turkish prisoners of war who had been freed by the Swedes from Russian imprisonment.
Captain Blom enjoyed a long career in the merchant navy and did the state big and valued favours. For his efforts he was awarded the Great Medal of Valour, "Svensksundsmedaljen", in 1793. His achievements of 15 years in command also gave him monetary riches. He was given more than 5,000 Dutch guilders by the government, which is several million Swedish crowns in today's currency. Through his assignments to Constantinople, he earned nearly half the purchase price of the large "Tyresö archipelago" estate, which includes Smådalarö.
12,000 Swedish riksdaler in 1802
The merchant navy captain Carl Peter Blom disembarked for the last time in 1796. A long and very successful career of international seafaring had not only made him wealthy but also well-travelled, having visited all the corners of the earth. But now was the time to put down roots and create something lasting.
In 1802 at the young age of 40, Blom acquired the large "Tyresö archipelago" estate from the countess Brita Bonde at a price of 12,000 Swedish riksdaler. This saw him return to his childhood archipelago. The scope of "Tyresö archipelago" was gigantic; it included Smådalarö, Westertorp, Älgö, Gränö, Kymendö, Fjellong, Fåglarö, Mörtö, Norra Torp, Huvudskär, Ekholms Krog, Jutholmskrogen, Stora Dalarö Gistgifvare Gård, Gåsö, Tyresö and several smaller plots. Blom chose the most beautiful place for his large residence and in 1802 the construction of the magnificent house on Smådalarö Gård began, which completed in 1810.
Inspiration from Mediterranean villas
Blom grew up in the archipelago and had his mother, uncle, brother and sister living on the estate, as well as his nephew Anders Berg, who subsequently became his heir and factor. But when he erects Smådalarö Gård's manor house, it's not built in the traditional archipelago style. The house is clearly inspired by the large villas on the Mediterranean, which Blom visited on his travels. With its pared-back clean shape, three storeys, hip roof and white stone façade, the house is a grand sight to behold. In 1810, the house was ready and Blom moves from Katarina Församling on Södermalm to his new manor on Smådalarö Gård.
Foundations laid by Gyldener
The foundations of the great movement on Smådalarö Gård were laid by lieutenant Carl Christian Gyldener, who together with customs inspector Nils Sondell rented half of Smådalarö for 20 years. Sondell also ran the restaurant on Dalarö and together the two gentlemen began producing both beer and spirits. Gyldener excelled in his hard work on Smådalarö and was therefore awarded his own lifetime tenancy contract in 1750. Gyldener erected his first two-storey "building of character" in present day Pettersvik. A second building of character was put up approximately where the hotel's billiards room is today.
In 1776, an ageing Gyldener is given lucrative offer from the Krono distilleries, who wanted to take over his tenancy contract in exchange for a handsome sum. Gyldener signs over his assets to the building of a new church on Dalarö.